This post includes affiliate links that earn us a small commission from your purchases at no extra cost to you.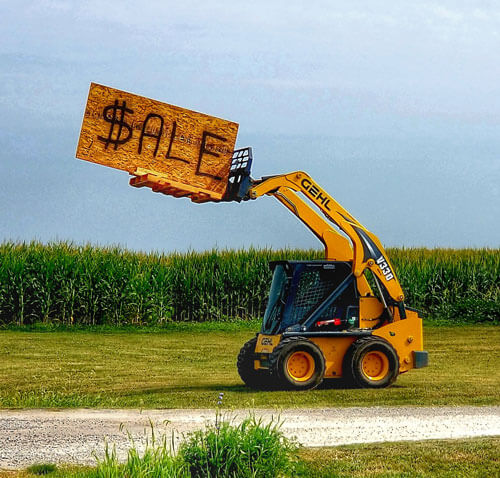 Are you gearing up to host a fantastic yard sale? If so, one of the most crucial elements you need to consider is creating eye-catching signs. You want signs that will attract potential customers and ensure the success of your sale.
We've all seen the not-so-great yard sale signs. Many consist of a piece of poster board with hand-written letters that are difficult to read.
Sometimes they even flap in the wind, or worse, fall apart in the rain.
Now, if you ever visit the 127 Yard Sale you will see some of those typical yard sale signs.
You will also find some of the most unique, clever, and humongous signs you've ever seen. Made from anything and everything you can imagine. It doesn't get much more eye-catching than a giant yellow forklift holding up your sign!
Next, we'll walk you through the essential tips for crafting effective 127 Yard Sale signs. If done right, you'll have everyone rushing to your yard sale!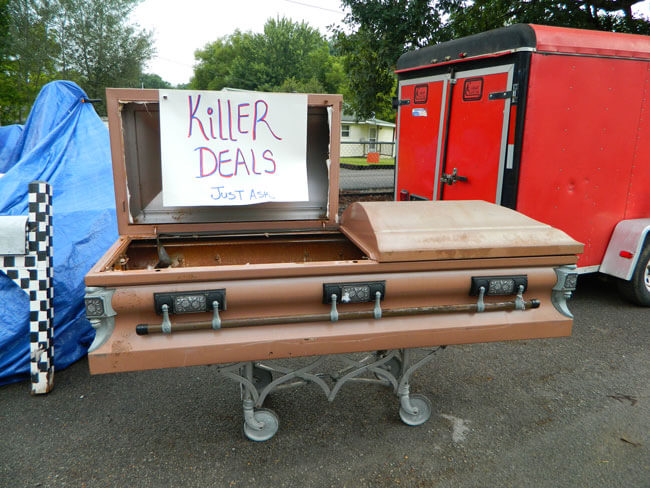 The Bigger the Better
When it comes to yard sale signs, the old saying "bigger is better" holds true. Your signs need to be large enough to catch the attention of those driving by your location.
Large signs are visible from a distance, increasing the chances of drawing people in. Make sure your signs are large enough so they'll be easy to read and understand.
How Big Should the Letters on My Sign Be?
A general rule of thumb is that 1" letters provide 25' of visibility. Yet, keep in mind that's the greatest readable distance. On a computer, size 72 font is equal to 1".
The size of the letters you will need depends on where you will place your sign and its intended purpose. Bigger letters will be readable from a further distance. When you factor in someone trying to read your sign from a moving vehicle they likely need to be even larger.
Stand Out from the Crowd
Large bold lettering is your secret weapon for ensuring that your signs stand out.
When people are driving or walking by, they need to be able to read your sign at a glance. Avoid fancy fonts that may be difficult to read from a distance. Stick to clear, bold lettering that pops against the background.
Keep It Simple: Less Is More
When designing your signs, simplicity is key. Remember, you have limited space. Potential customers won't have the time to read a lot of text.
Include only the most crucial information. Concise and clear messaging results in readable signs.
Check Visibility From a Distance
Before posting your signs, take a moment to step back and test their visibility from a distance. If designing signs on a computer you can step back from the screen, or zoom out, to mimic seeing the sign from a distance.
If you can't read your sign from at least 20 feet away, chances are drivers passing by won't be able to read it either. Ensure your signs are easy to read so they capture the attention of potential customers.
Use Weather-Proof Materials
Weather can be unpredictable, so it's important to make your signs weatherproof.
Protect your hard work from rain and wind to ensure your signs last for the duration of your yard sale. This is especially crucial for the 4-day, 127 Yard Sale event.
When ordering signs online corrugated plastic is a common material you will find. It holds up very well and is completely waterproof.
More Than One Sign Leads the Way
Don't rely on a single sign to direct potential customers to your location. Instead, place signs at each turn along the way. This creates a breadcrumb trail of advertising that guides people to your event.
Ensure easy navigation to your yard sale. Don't leave potential customers guessing about the right directions to take.
Make sure people don't give up on finding your sale.
People will often turn around if they are unsure of the distance to your property. Clear and visible signs at each turn will give them reassurance as they drive to your yard sale.
Include Important Sale Details
Your signs should include vital information about your yard sale. Remember, don't include anything that isn't needed.
Recommended information to include:
Type of sale (Yard Sale, Garage Sale, Barn Sale, etc.)
Specific dates/days of your sale.
Opening/closing hours.
Mileage to your property.
Directional information only if necessary.
Arrows are a simple way to help direct drivers to your location. They are a must! If your yard sale is near the 127 Yard Sale event route use arrows to lead the way.
DIY or Go Professional
You may be thinking of designing your own signs. But, if your budget allows we recommend having your signs made by a professional sign company.
That will be much faster and easier. The result will be much higher quality. And best of all, they'll be waterproof so you won't have to worry about rain or the morning dew causing them to fall apart.
What does a yard sale sign cost?
Buying signs from a local sign company or ordering online can be less expensive than you might think. A standard real estate size sign is 24"x18". You can buy them for under $15 each. The more you buy the cheaper they get.
Our favorite company to order from is Signs on the Cheap. Gotta love the name! :D The price is right and the quality is great as well!
Make Sure it Can Be Seen
So, you've followed all the tips above. You've created well-designed signs with large bold lettering and all the right information. Now you need to make sure you install your signs in great locations.
Common sign installation mistakes:
Placing them too low to the ground.
Not realizing another sign, a tree, or a bush is blocking the view.
If you can elevate your sign in some way that's usually the best option to make it more easy to see. Using a taller signpost could be the solution.
After the sign installation:
Once you're done installing a sign, drive past it in both directions to make sure people will be able to see it. Make adjustments as needed.
Conclusion
A successful yard sale starts with attention-grabbing signs. By following these essential tips, you will have signs that are impossible to miss. They will all but guarantee to draw in a steady stream of eager customers.
Remember, large, bold, and easily readable signs are your best bet for getting people to your yard sale. It's worth the time and effort it takes to craft fantastic signs. Then you can watch as your yard sale becomes the talk of the town, or the 127 Yard Sale! Happy yard-saling!
Free Yard Sale Sign Templates
We've created some yard sale sign templates you can download for free! These will help you design your signs in no time. All you have to do is add your custom text and you'll be on your way to having highly visible, eye-catching signs.
When we order signs for our own use we like to use Signs on the Cheap. They have a very easy-to-use sign designing tool to help you with your design, and it's free to use as much as you want. You only pay for signs you actually order. Why not try it out right now!